Mr Averell, Hugh Banton and John Ellis
Live in the Orgelpark in Amsterdam, 8 November 2008

The Orgelpark (translates as: organ-park; website in Dutch) is in the recently restored Parkkerk (translates as: park-church) in Amsterdam. The church is converted into a theatre. Going down a few steps immediately after the entrance there is the cloakroom and the bar. The hall is one floor up.
Looking out towards the stage from the audience there is a large church-organ right above the pulpit. To the right on the gallery there is a second church-organ, modernistic-looking, which was built in 1954, originally in a different church. There is a third large organ right behind the audience, which looks impressive but which is in scaffolding, making it clear it is not finished yet. There's also a frivolous-looking organ, painted golden, to the right on the floor, about three metres wide and built around 1915, and a small organ.
On the stage there was a drumkit ready, largely made up of electronics, some 'regular' drums, a large gong and countless rattles and other noise-making instruments. Beneath a small table was a hand-built organ (crazy hand-built devices are one of Mr Averell's trade-marks), made up of three tubes and feet-controlled bellows. Someone who came on stage told us that we were allowed to take photos for the first ten minutes, and I did.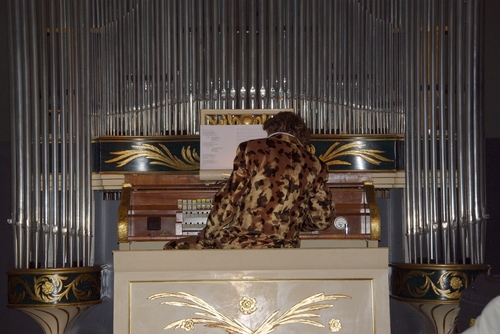 Mr Averell behind the golden Molzer-organ.


The three started with John on the pulpit, Mr Averell (René van Commenée) behind the golden organ and Hugh standing behind the smallest organ. All evening they were mostly improvising. The whole weekend in the Orgelpark was about improvisation. A while later on in the evening Mr Averell (who did all the talking) told us the three of them had only practised this afternoon.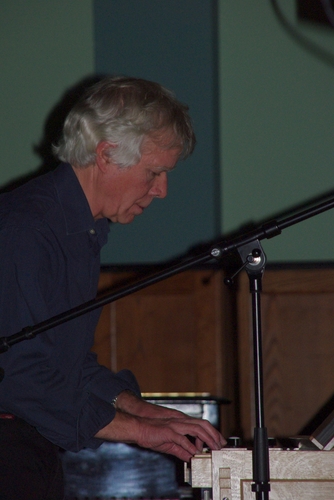 Hugh Banton behind the small organ.


There was a number of really magical moments. Quite early on there was a song in which Mr Averell was very busy drumming away but all of a sudden introduced a break by ticking his drumsticks together. The whole evening there was more rock than I had expected. Hugh was obviously having a great time. René appears to be a very accomplished drummer, and John appears to be a good improviser.
They played a strange version of Out Of My Mind, the title-song of Mr Averell's first CD. And they played the première of Fear Of Dreaming, a song that will be on Mr Averell's new CD Gridlock (expected in early 2009). And they played Boxes, also a song that will be on Gridlock, and that will be played with a church-organ on the CD too. Gridlock was delayed, in part because of the tight schedule of Lene Lovich, who will sing a duet on it.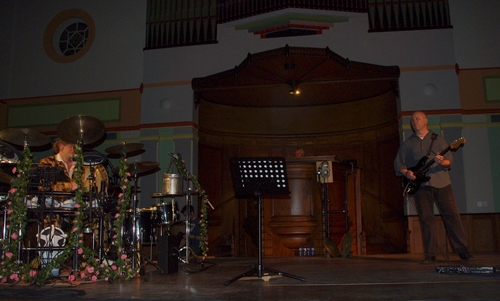 Hugh Banton on the pulpit.


Hugh played a solo-piece by Bach on the modernistic-looking organ on the gallery to the right. A little while later John played a solo-piece, in which he sampled himself and used E-bow and other gadgets. All evening John was busy with samples so he could play a different part over it, and he made terrific use of the E-bow. At some point he sounded just a little bit like a saxophone-like solo-instrument accompanying the organ and drums...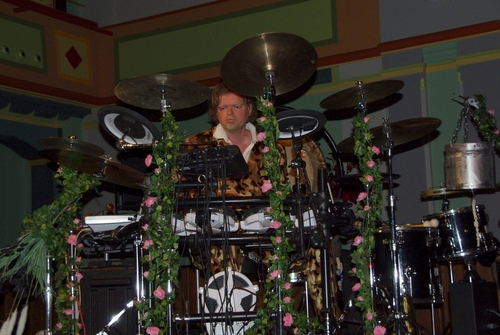 René drumming.


After Boxes, near the end, they played a piece from Curly's Airships, the only album they all three played on (although they didn't actually meet during the recording of it). I don't know the title of it, but it was one of the instrumental, triumphant rock-themes. The encore was Theme One (guitar, organ and drums).
In the cloakroom there were CD's for sale, among others Judge Smith's The Full English and Curly's Airships and Live In Italy, but also Mr Averell's Out Of My Mind and Batteries Included (by David Jackson en René van Commenée), and Hugh Banton's The Goldberg Variations and Jackson's Tonewall Guastalla DVD.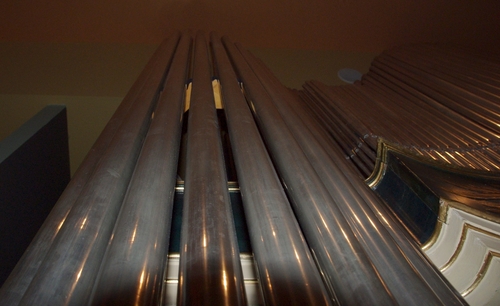 One of the organs.


Afterwards John told us that it had been very complicated to anticipate each other's music because of the resonance and because of the delay of the organs. It took about half a second from Hugh's hand movement until the sounding of the note.
It was a miraculous evening. It looked like the tree men had a lot of fun, and I hope they will meet again musically.