Voices
(Judge Smith,
The Climber

, 2010)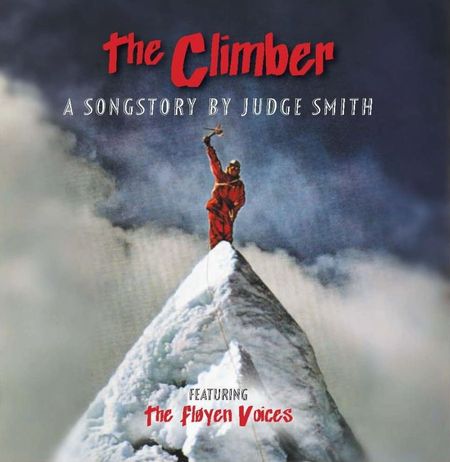 Judge Smith's latest album is a "songstory", just like his album Curly's Airships was. And it's as good a story as I've ever heard tell in songs. A real thing of beauty.
The Climber's general atmosphere is different from that of Smith's previous songstory, Curly's Airships (2000). It's not about a zeppelin going down, but about a person who, because of a near-death experience, manages to rise above himself. And it's not as rich and complicated in sound as Curly's Airships was, but much more cohesive. The whole piece is performed by a male-voice choir, a double bass and a solo voice by Judge Smith.
Written in 2005 and performed and recorded in Norway in 2009, The Climber tells the story of a British mountaineer in the middle of the last century who tries to climb a Dolomite mountain in Italy on his own. He (sung by Judge Smith) is a loner and doesn't care very much for company. The villagers (the choir) see tourists like him come and go year after year, and they know all about the dangers of climbing the mountains. They try to warn him, but, enthralled by the magic of the mountain, the mountaineer underestimates the risks. Just before he freezes to death on the mountain, he is rescued by the staff of his hotel.
While writing this review, I'm listening to The Climber. First at a quite low volume, but that proves to be hardly possible. Every two minutes I turn the volume up more, until I find myself enveloped by the voices of the mountain choir. The harmonies are spine-chilling. I feel an almost constant urge to whistle or sing along with my own melodic lines. That must be the greatest form of art: that which brings the listener to be a little bit of an artist him/herself.
As beautiful as the solo voice of the mountaineer is, I found myself more enthralled by the characters of the choir/villagers. They are filled with a sense of duty. The mountaineer is just a monomaniac, a slave of his hedonistic urges, although he himself likes to think of himself as an ascetic. All he really feels is an almost erotic fascination for the mountain, all he wants to do is climb. The voices of the choir are very warm and full of character, and because there are no more than twelve voices, every time you listen it gets easier to tell all voices apart. They are endearing when they sing like they are drunk, and impressively professional when they sing the voice of the wind. The choir arrangements by Michael Brand and Ricardo Odriozola are full of simply brilliant inventions.
At the heart of it all, Judge Smith tells us a tale about what it is like to be human. About the obligations that involve being human and about the consequences of turning away from humanity. And although it is set in the cold Alpine mountains, the piece is about warmth and comfort. It doesn't really matter if you like thrash metal or classical music or punk or choir music: if you miss this one, you're missing out on something very important. I've now realised: the universe is made of voices.

The Climber can be ordered from this page on the Judge Smith website.